G I V E
At Christmas its a time of being with family, lots of food and gatherings with work, friends and acquaintances. We find those special gifts for the people in our life but is that all?
I really want to skip the cliche of this season, there is many a quote from many a Christmas movie (Example " Maybe Christmas doesn't come from a store, maybe Christmas means something more.." the Grinch) talking of how "Christmas isn't about the gifts" and trust me I agree, I just don't like the apathetic sentiment behind it all! I say Bring on the Gifts! The ones where we give our time and energies to others! Give our children lessons in humanity and in helping others around us! Lets give a gift, give ourselves for the sake of others, its the best Gift we can give. This is a place, a guide if you will, for you to find a collective of information and resources for spreading love this Christmas in a tangible and meaningful way.
Lets invest in our community, where we live and globally, it starts with us, and this is a starting point in loving and lifting up our community all year round!
* NOTE: Most of these resources are for the Fraser Valley and Vancouver BC but there are many of these organizations everywhere and I am sure you will be able to find one in your town if not close by! 
"Its not our job to toughen our Children up to face a cruel and heartless world. It's our job to raise Children who will make the world a little less cruel and heartless."
– L.R Knost
Toy Drives
One of the most popular ones around Christmas time is Toys for Kids! Not all families have the capacity to give above and beyond their everyday needs so this is a chance for us to come around those kids, in our community and beyond to give those kids a toy or box of goodies they may not be expecting.
Here are a few of our suggestions:
Lower Mainland Christmas Bureau – Its all in their mission statement – "Empowering families in need to create Christmas experiences for their kids through the generosity of the community."
Make sure to checkout their website for upcoming donation drives and events!
Operation Christmas Child – You may have seen the bright red boxes a time or two, its the perfect way to provide a special gift to a child near or far away, and a fantastic way for you as a whole family to get involved! Its fun for kids to physically pick the toys and essentials for their boxes and its a great time to learn and grow as a family learning about families in need. You can even build a shoe box online for a fast and easy way to gift!
https://www.samaritanspurse.org/operation-christmas-child/buildonline/
*NOTE: There is a list on their site of great things to give and some that aren't exactly right for the project so make sure to check them out!
Blood Donation
This is not necessarily a Christmas themed type of giving but the need is great never the less, after all my hope is a all year round giving!
Your Donation Can Touch So Many Lives
What greater gift is there than the gift of life? That's exactly what every blood donation delivers. Blood and blood products are a critical part of everyday medical care including major surgeries, medical procedures, cancer treatments and managing disease.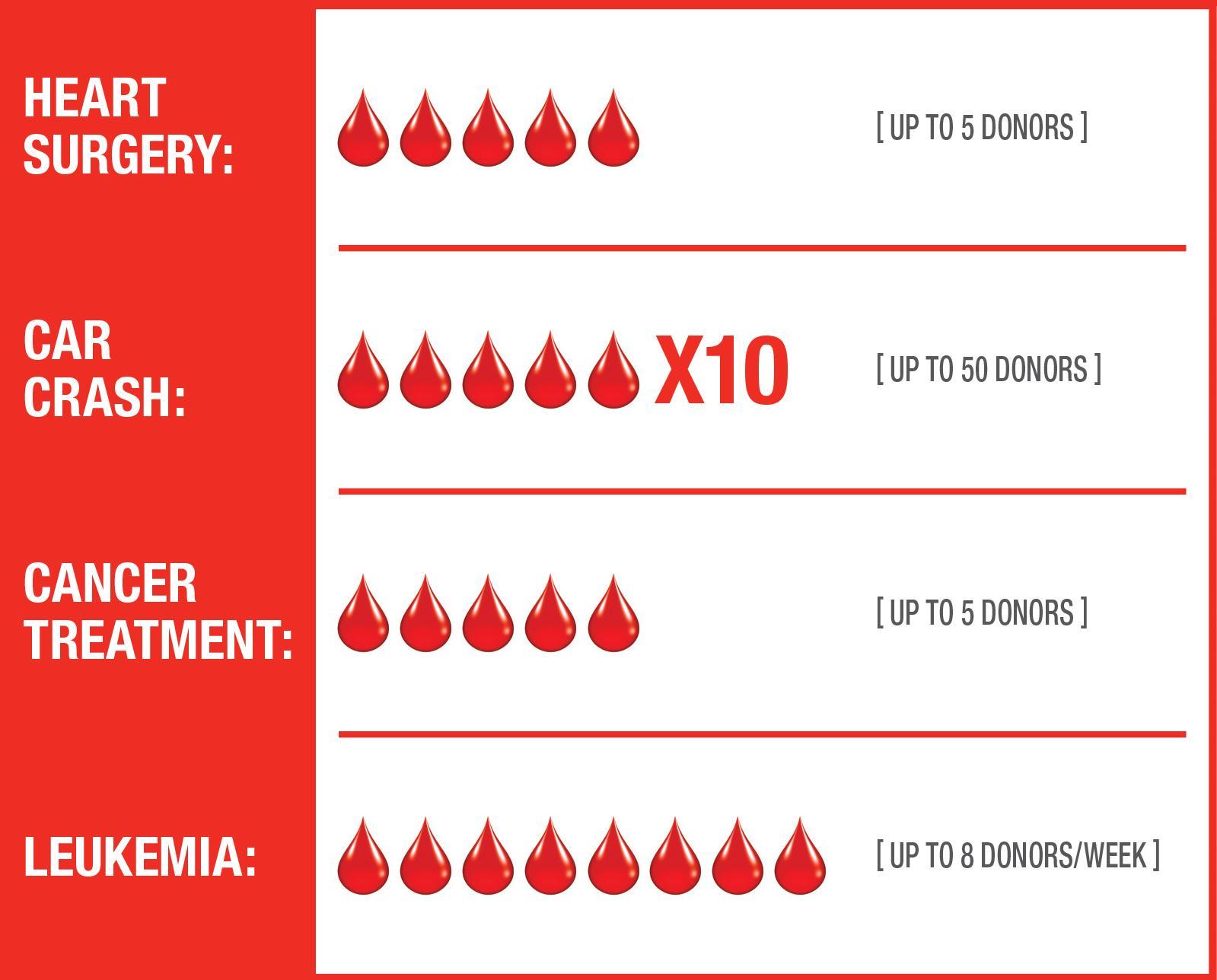 HEART SURGERY
Born with a congenital heart disease, Madison needed more than 40 blood transfusions as a baby, as well as daily platelet and plasma transfusions. She spent her first 72 days in intensive care. Today she's a happy, healthy four year-old girl, thanks to an ongoing supply of blood products.
LEUKEMIA
Diagnosed with leukemia, Rick received numerous blood transfusions while he waited for a suitable stem cell donor to be found. As he underwent rounds of chemotherapy, there were several times his doctors thought he wouldn't make it—especially when he slipped into a coma for weeks. But today, Rick has been cancer-free since 2007.
CAR CRASH
A regular blood donor herself, Danielle was in a serious car accident that killed her fiancé and left her clinging to life. She lost so much blood that several transfusions were needed to save her life. If not for the generosity of blood donors, she would not be here right now.
APLASTIC ANEMIA
Paul's life was saved by blood donations after being diagnosed with aplastic anemia, a condition where your body stops producing enough new blood cells. After over 100 blood and platelet transfusion, he and his family are able to enjoy the simple things in life.
See how every blood donation makes a differences in peoples lives, make sure to visit the website for these full testimonies and stories and find your local place to donate!
https://blood.ca/en/blood/who-does-my-donation-help
Blankets and Warm Clothes for Womens Shelters & Treatment Facilities
For people and especially women and families who are without homes, the winter months and harsh conditions, especially in the PNW can be very difficult. Shelters fill up fast and can reach capacity so the need for Blankets and War winter clothes for those who can't stay is great. The need for daily necessities, and womans sanitary needs are also a good way to help by donating.
Here are some Local Shelters and Organizations who take donations:
Downtown Eastside Womens Centre – http://dewc.ca
Surrey Womens Centre – http://www.surreywomenscentre.ca
Sources (Langley) – https://www.sourcesbc.ca/our-services/womens-place/
Peardonville House (Abbotsford) – http://peardonvillehouse.ca 
There are always others, like Warm Zones, Salvation Army and many others.
Food Bank
The food bank is always an amazing place to donate and go volunteer over the Christmas season! They are ALL OVER the place! All you need to do is type in your location and food bank into google and there you go! This a great all year round opportunity and there are lots of volunteer opportunities as well!
For Abbotsford here is our link to their website and a shopping list of what is need and where you can drop off!!
https://www.abbotsfordfoodbank.com
Purchase a Goat!
Yes you read that right! And I don't just mean only a Goat, but Roosters, Chickens, Alpacas, Bees, Fish and even Pigs! World Vision has an amazing ministry where they provide a gift catalog of different agricultural and sustainable items to give that will have a Global impact!
Its a very amazing project and how fun to go through with your kids and talk about our global community and picking out animals that will help a family in need create a steady income and provide food!
There are lots of other options other then animals as well like clean water, plant based agriculture, health and nutrition and education! Click the link below to search the catalog!
https://donate.worldvision.ca/pages/gift-catalogue
Serving Christmas Dinner
A great way for families with older kids to serve and be hands on in the process is to serve Christmas dinner! Also a great thing to do as a group or just on your own! There are always lots of opportunities to do so wherever you live! Here are a few organizations around the Lower Mainland that are in need of volunteers!
Salvation Army: https://www.careandshare.ca
Union Gospel Mission: https://www.ugm.ca/take-action/
Cyrus Center (Abbotsford and Chilliwack): https://www.cyruscentre.com
At Risk Youth
Cyrus Centre (Abbotsford/Chilliwack)
From their instagram page: @cyruscentre 
We've been asked what our Christmas/Winter needs are so we thought we would post the list!
-New Hoodies (given to youth as Chistmas presents!)
-New or lightly used winter coats
-New or light used winter boots
-New pajamas (guys & girls)
-New ladies underwear (size small and medium)
-New men's boxer briefs or boxers (size small, medium, large)
-Gloves
-Handwarmers
-Hot Chocolate & Coffee
-Chapsticks
-Hairbrushes and hair elastics
-$5 Tim Horton's and McDonald's gift cards
-Hamburger Helpers, Mr. Noodles, Kraft Dinner, Nutella, Cheeze Wiz (items that can go in food hampers but also items youth don't usually get in a food hamper but they wish they did!!)
-Granola Bars (to give out during street outreach and extreme weather transportation)
-LARGE garbage bags (127 L size)
-Disinfectant wipes
-Gas gift cards to help with the costs of doing Extreme Weather driving and outreach
-And of course, financial donations which help us operate 24 hours a day and always be available to youth in need or in times of crisis
There are also all year needs! Things such as cleaning supplies, socks, underwear, tampons. toothpaste, toilet paper and other daily needs!
They serve dinner every night of the year, not just on Christmas! There is opportunity for you or groups to be able to serve on a monthly basis, as well as other volunteer opportunities.
If your a services based company and have the capacity to give as a company its a great way to give back as well!
Locations for dropping off items:
Drop off Abbotsford – 2616 Ware st or Chilliwack – 45845 Wellington St.
*NOTE: They ask you bring the items not wrapped so they are able to give each youth a gift that suits them best!
Covenant House is also another organization in Vancouver with similar needs and chances to volunteer.
http://www.covenanthousebc.org
The Gift of Giving Project
The gift of Giving was started by a group of women in the Fraser Valley who have a heart for curating relationships in business, really just supporting women and building them up in all ways! This year their goal is to sponsor 300 gifts for women who otherwise might not receive a gift this Christmas.
These gifts will be used to bless women in homeless shelters, recovery homes and safe houses around the lower mainland.

Each gift is $30 and will include cozy socks, personal care items (wash, cream lip balm), toothbrush and toothpaste, hair ties, granola bar, feminine hygiene products and new underwear.

If you would like to get involved we are looking for the following:
– Donations to reach out goal of sponsoring 300 gifts (you can find the link if you go to @danilivinglife 's bio)
– Promotion Partners if you would like to help us spread the word
– Wrapping and Delivering Gifts
Contact danielle at @danilivinglife if you'd like to participate or donate!

 These are only a few, a good starting place, and these aren't only for Christmas either! They are for year round, so really its a gift guide for life! I hope you can and do add more to the list!
Photography by the wonderful Jaleesa Matteazzi Photography